UN investigation reports a litany of crimes committed in Eritrea since 1991, including enslavement, rape and murder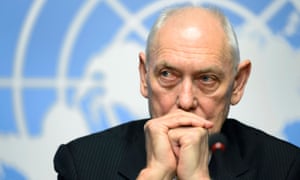 The chair of the Eritrea inquiry, Mike Smith, says the international community must ensure there is accountability for the atrocities being committed.
Eritrea's government is guilty of committing crimes against humanity since independence a quarter-century ago with up to 400,000 people "enslaved", the UN said on Wednesday.
The crimes committed since 1991 include imprisonment, enforced disappearance, extrajudicial killings, and rape and murder, said the United Nations Commission of Inquiry (COI) on human rights.
The forced labour of military conscripts is also a major problem in the country, the UN said.
"We think that there are 300,000 to 400,000 people who have been enslaved," chief UN investigator Mike Smith told journalists in Geneva.
The government also operates a shoot-to-kill policy to stop people fleeing the country, according to evidence collected by the UN inquiry.
About 5,000 Eritreans risk their lives each month to flee the nation where forcible army conscription can last decades.
"Very few Eritreans are ever released from their military service obligations," Smith said.
The Refugee Council's head of advocacy, Lisa Doyle, said: "This report should send shockwaves throughout Whitehall. It confirms the ongoing gravity of the human rights situation in Eritrea; once again finding evidence of crimes against humanity.
"When a regime is on the verge of being referred to the international criminal court for gross human rights violations, it is dangerous and absurd that its citizens are being denied refuge in Britain."